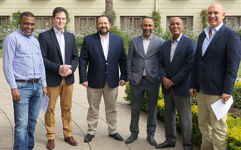 Two private companies to improve internet access in Ethiopia
With the aim of improving internet access in Ethiopia, WebSprix, Ethiopia's only private Internet service provider announced investing in wingu.africa group limited, the pan East African data center, which recently entered the Ethiopian market to build the first private data center in the country.

"our two companies have a strong complementary focus on "Shrinking the Digital Divide", this is the term used to describe the gulf between those who have ready access to computers and the internet, and those who do not," said Mr Anthony Voscarides, wingu Co-Founder and CEO. Ethiopia is among the countries in the world with the lowest Internet access providing only to some 15 percent of its 110 million plus population, according to the Internet Society.



The WebSprix investment comes hot on the heels of wingu breaking ground last week on the first multi-million-dollar hyperscale data centre in Ethiopia and WebSprix' announcement in December that it's become the first company globally to the first to Cisco 8000, a Routed Optical Networking Solution to power its high-speed broadband service expansion.
Fast, reliable and secure internet requires good connectivity, ideally through fiber and secure storage of data close to the user. With the planned investment in several modern hyperscale data centers by wingu, users, both individuals and companies, will be able to store their data locally avoiding long delays for transmission and providing comfort that the data is securely stored in the country. This fits perfectly with the planned rollout by WebSprix of a national network of high-speed fiber.
As all fibers of business and personal lives increasingly depend on connectivity and data, including wider adoption of the "Cloud" to hold information, more data centers will be required and wingu intends to make further investment over the coming years.
The two companies are working closely together on their expansion plans, to support the development of the critical ICT infrastructure needed in Ethiopia to meet the needs of the population and enable strong economic growth and job creation.
Commenting on the partnership, Mr Dawit Birhanu, WebSprix Co-Founder and CEO, said "I am extremely pleased to partner with wingu, their international expertise and experience in data centers is a welcome benefit to our country and we will not only use the data centers for our own business, to give even better service to our customers, but also expect a lot of interest in accessing this vital infrastructure from businesses, large and small."
wingu.africa is East Africa's first carrier and cloud neutral data center group with award-winning operating expertise and experience, offering a single point of contact and world-class facilities & services in key markets. Including Djibouti, where for almost ten years its Djibouti Data Center has operated successfully and is today the most connected place on the African continent.



A strong Information Technology infrastructure is extremely critical for any country to achieve robust economic growth, competitive manpower development, high performing education system, and enhanced health care system. WebSprix plans to help Ethiopia build a stronger Information infrastructure and wants to play a critical role in achieving this goal.
"In support of this core commitment, WebSprix have introduced a number of new and innovative services and technologies in Ethiopia including the first private ISP, voice and SMS services, innovative DC and IT infrastructure buildout for some of the largest financial institutions in the country. Continuing with this commitment WebSprix is launching innovative ultra-highspeed broadband service, Internet TV, and hosting services, each of which is the first of its kind in Ethiopia," the Company said in its press statement.